What is Google form? Want to really know about Google Forms? How can you use this google form in your daily work in your Online Business? Is Google Form worth its value? Google form is free, fast & easy to use. This is very user-friendly. In this post, I will tell you how can you use the Google form in your daily tasks.
What is Google Form?
First of all, you should know that this is a product of Google. Google Form is open-source software that helps you to get online surveys, make online questionnaires & many more. Since this is the property of Google. There are more services included in Google Forms. Google included several more services like Google Sheets, Google docs, Google slides, Google Sites, etc. There is one thing that is to be noticeable Google form is only available for Web services.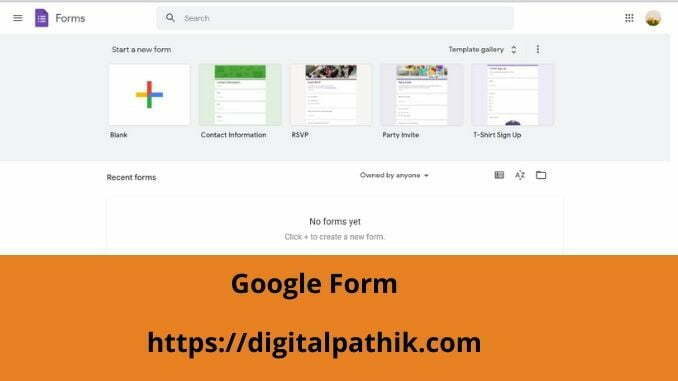 Who can use Google Forms?
Google form is free and accessible by each & every one who has a Google account. This is free open-source web-based software. If you want to use the Google form then you have to own Google Account. By signing into your Gmail account you can access the Google Form. You can create & get an online response from your new Unlimited Google forms. You can also share the Google Form link to another place.
How can you create Google Forms?
Google form is free of cost service by Google. You can create unlimited Google forms by signing into your Gmail accounts. Here I am trying to tell you how can you create Google Forms.
First, Please sign in to your Google Account by clicking here.
Click 9 dot icons in right & upper side of your page after successfully logging in & Find the Form & click on this.
If you are visiting for the first time then you see "No forms yet" & click on the (+) icon to create a new one.
After clicking on the + icon new page will be opened for you.
Fill up the form Title in the left corner, form heading after this your question or column which information want you to collect from your audience.
You can make any column necessary by toggling icons. You can rearrange your form columns at any time.
You can make your form required signed in to be filled in by its users.
You can get all responses via Google Sheets.
You can also set email preferences to your form data.
Benefits of Google Form
When it comes to talking about the benefits of Google forms. the Google form is an amazing tool to get any data from our Audience or staff. Google form allows you to create your amazing user-friendly form. Here are a few benefits of Google forms.
By using Google Forms you can integrate your Google form into your social media or any website.
By using Google Forms you can integrate with your website & take data directly to your excel sheets.
You can also make your audience to login in to fill out this form.
You can also fix your trial to fill up the forms.
you can embed or share the direct link of your form on any social media platform.
You can also make this Google Forms as a quiz.
You can also add users (Editors or in a restricted manner) to make your team more efficient.
You can customize the color of the form headers with themes or titles.
Last Words
In last words, I would like to say that Google Form is an amazing tool presented by Google. All features of this Google Formwork are very diligent. You must use Google forms & make yourself more efficient than before.